Is There a Better Way to Accept Payments?
Accepting card payments is standard practice today – but what if you could do it through your phone. With a few taps you can process payments anywhere, making for a smoother customer experience. This method not only makes your business operations more efficient but also significantly cuts down on costs.
Mobile payments are not just convenient; they're also cost-effective. They often incur lower fees, allowing businesses to keep more profit. Additionally, they integrate well with digital tools, streamlining operations without the need for traditional card machines, thus reducing overhead costs.
How Do I Accept Card Payments on My Phone?
Accept card payments on iPhone:
The Apple ecosystem offers a lot of options for businesses to accept card payments on their smartphone. With apps like Square and PayPal Zettle, iPhone users can easily process transactions without the need for additional hardware. Sign up, link your bank account, and you're ready to go. The intuitive interfaces of these apps make the process straightforward, even for those who aren't tech-savvy.
Accept card payments on Android:
Android users aren't left behind either. Platforms like Google Pay and Stripe provide robust solutions for accepting card payments on Android devices. These apps come with features that allow for invoice generation, real-time transaction tracking, and integration with other business tools. The open nature of the Android ecosystem also means there's a wide variety of third-party apps tailored to specific business needs, such as Sway.
What Are the Benefits of Accepting Card Payments on My Phone?
Simplicity
Businesses need solutions that are straightforward and fast. Accepting card payments on your phone epitomizes this. The process is stripped down to its core: a smartphone, a user-friendly app, and you're good to go. Say goodbye to the hassles of navigating through complex systems or dealing with bulky registers. It's all about making transactions as simple and quick as possible, catering to both the business and the customer.
Take it anywhere
With the ability to accept payments on your phone, you're no longer bound by a location. Be it a trade show, a trendy pop-up shop, or a client's location, your phone transforms into a powerful payment terminal. The result? A business that's as mobile as you are, ensuring you're always ready to make a sale, no matter where you are.
Lower fees
Cost efficiency is at the heart of any successful business. Traditional payment methods, with their myriad of fees, can often eat into a company's profits. Enter mobile payment solutions. By offering lower transaction fees, they ensure that businesses keep a larger chunk of their earnings. However, this varies from app to app. You can expect savings of up to 50%
Better integrations
Mobile payment apps offer seamless integrations to a large number of business tools. Whether it's syncing with accounting software for real-time financial insights or connecting with a CRM system to enhance customer relationships, these integrations facilitate a cohesive and efficient business environment.
Hardware free
The need for expensive card readers or elaborate POS systems not only adds to expenses but also brings along technical challenges. With phone-based card payments, these concerns are a thing of the past. No more discrepancies. Your smartphone becomes the only "hardware" you need.
This video can provide you some additional insights on how payment processing works, and where their fees come from:
What Are the Costs of Accepting Card Payments on My Phone?
Although accepting payments via phone is a rising trend, this convenience often comes with a price. Whether it's online gateways or mobile POS systems, they both carry various charges. Transaction fees, setup costs, monthly maintenance charges, and even percentage cuts on each sale can quickly erode a business's profits. For many small and local businesses, navigating these hidden costs while ensuring efficient and secure transactions can be a daunting task. And oftentimes, you're not even fully aware of them.
That's where Sway comes in. Designed with local businesses in mind, Sway offers features that not only simplify transactions but also make them more affordable.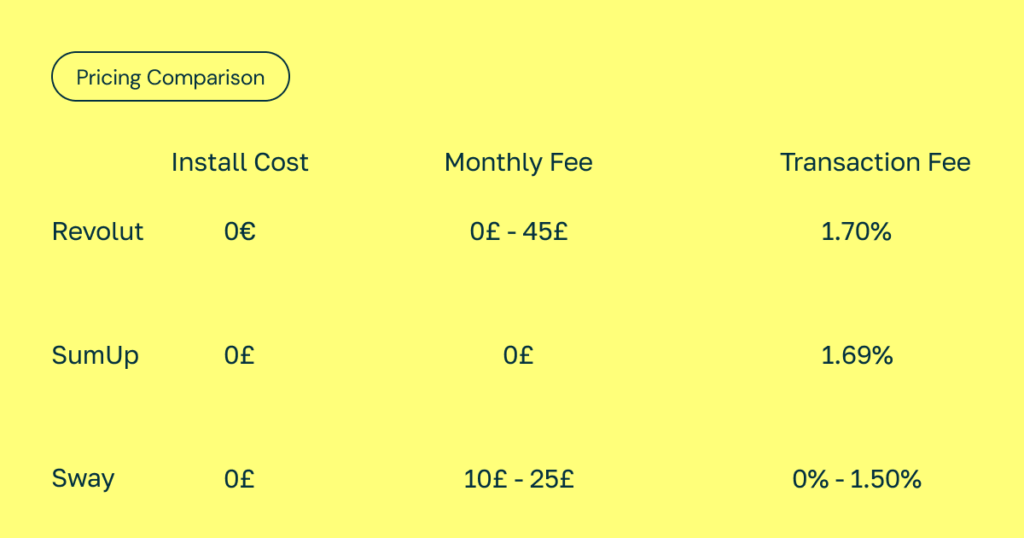 How Does Sway Compare?
Unlike many platforms that have hidden charges, Sway operates on a clear pricing structure. With just a monthly or yearly subscription, businesses can unlock all of Sway's features without worrying about additional costs per transaction. Typically, payment processors using a hardware POS charge 2.9% + 30¢ per successful card charge for businesses. With Sway, you're saving 48% or more on each transaction. The result? Significant savings in the long run, allowing businesses to invest more in growth and customer satisfaction.
But the reality is that even when compared to other services that allow you to accept payments through your phone, Sway still brings in great savings. It's all thanks to our instant bank transfers system. With it, you can generate a QR code that, once scanned, fills out the details for an instant bank transfer on your customer banking app. You pay 0% fees, the funds go straight to your bank account, and it takes 10 seconds for your customer to pay. Many businesses are adopting Pay by Bank payments thanks to the lower fees.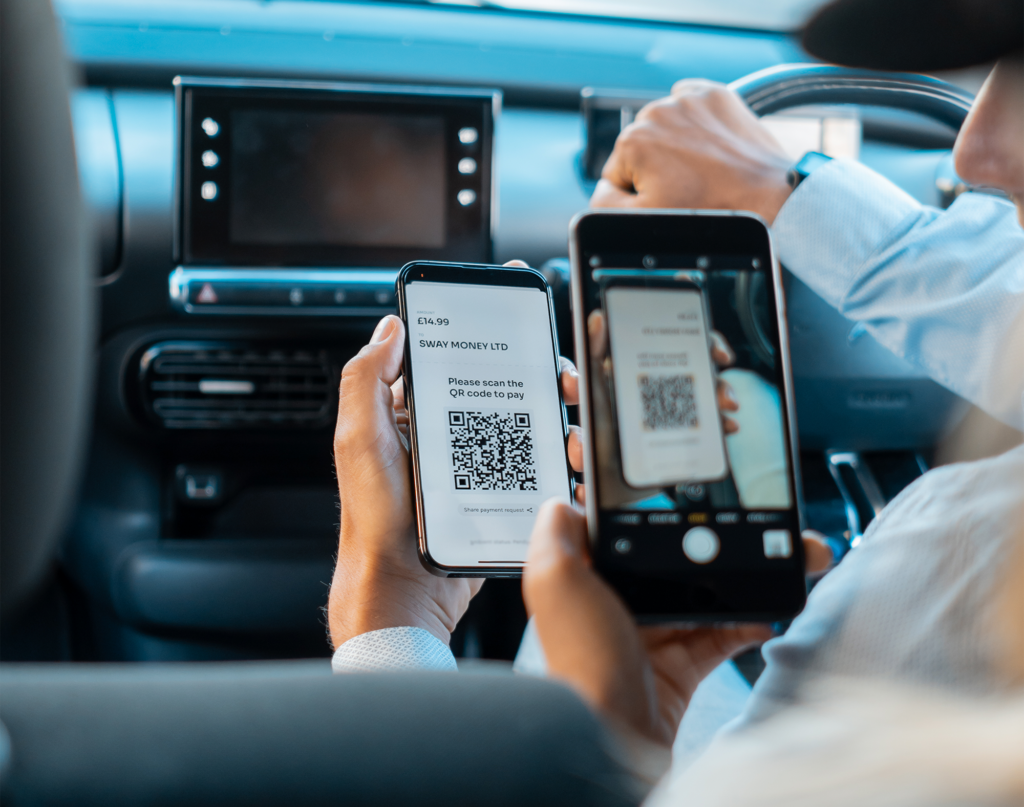 Sway's Key Features:
Here's the overview of the most used features:
Unlimited Transactions: Process any number of payments without extra charges.
Low Fees: Competitive rates that ensure businesses keep more of their earnings.
Security First: Payment links that expire in five minutes for added protection.
Multi-device Flexibility: Operate on unlimited devices, from smartphones to tablets.
Digital Receipts: Send instant receipts, enhancing customer trust.
Extended Payment Windows: 30-day expiry on payment requests, offering flexibility.
Tip Collection: A thoughtful feature for service-oriented businesses.
If you want to know more, check out our features page.
Is It Safe to Accept Online Payments on My Phone?
It's normal to have concerns about receiving card payments on your phone. Scams are becoming more and more sophisticated everyday. Nonetheless, reputable online payment platforms prioritize security by employing end-to-end encryption, tokenization of card details, and adhering to the Payment Card Industry Data Security Standards (PCI DSS). These measures aim to safeguard sensitive information and deter unauthorized access.
What's the Difference Between Phone Payments and mPOS?
At first glance, mobile Point of Sale (mPOS) systems and phone-based payment solutions might seem similar. Both allow businesses to accept payments on the go. However, there are key differences to note.
mPOS systems, while portable, need extra hardware like card readers that connect to a smartphone or tablet. This added equipment can sometimes be a hassle, especially for businesses that want a quick and easy setup.
On the flip side, phone-based payment solutions don't need any extra gadgets. With just a smartphone and the right app, businesses can process transactions. This simplicity means fewer things that could go wrong and a smoother experience.
In short, while mPOS systems work well for some businesses, phone-based payment solutions offer a more straightforward approach to mobile transactions.
Key Takeaways
In an era where digital convenience is paramount, phone-based card payments have become an essential tool for businesses. The Sway app, in particular, offers a comprehensive solution that addresses both the needs of businesses and the expectations of modern consumers.
Accepting Payments on Phones: Streamline operations with the convenience of accepting both card and bank payments directly on your mobile device.
Benefits of Phone Payments: Experience unmatched simplicity, mobility, cost-efficiency, seamless integrations, and a hardware-free payment environment.
Cost Implications: Understand the potential costs associated with traditional payment methods and how Sway offers a more affordable and transparent pricing structure.
Safety of Online Payments: Ensure secure transactions with features like expiring payment links and adherence to industry-standard encryption practices.
Phone Payments vs. mPOS: Recognize the distinctions between mobile Point of Sale systems and pure phone-based payment solutions, with the latter offering a more straightforward approach.